Atul Grover

, MD, PhD
Executive Director, AAMC Research and Action Institute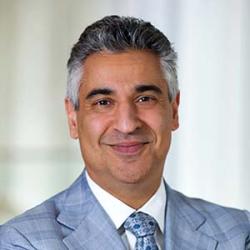 Atul Grover, MD, PhD, leads the AAMC Research and Action Institute to convene experts to examine issues affecting American health care.
Atul Grover, MD, PhD, is the inaugural executive director of the AAMC Research and Action Institute. The institute convenes national experts to examine the most critical issues affecting the missions and institutions of academic medicine; develop policy and programmatic solutions; and harness member medical schools, teaching hospitals and academic health systems, and academic societies to test, validate, and scale effective change.
Dr. Grover is an internal medicine physician, health services researcher, and nationally recognized expert in health policy. Dr. Grover joined the AAMC as the associate director for the Center for Workforce Studies in 2005, where he managed research activity and directed externally funded workforce studies. He became a director of government relations and health care affairs in 2007 and served as the association's chief public policy officer from 2011 to 2016. From 2016 to 2020, he served as executive vice president, where he provided strategic leadership in the areas of medical education, academic affairs, health care affairs, scientific affairs, learning and leadership programming, diversity and inclusion, public policy, and communications.
Previously, Dr. Grover held positions in health care finance and applied economics consulting and worked with the U.S. Public Health Service, Health Resources and Service Administration National Center for Health Workforce Analysis.
Dr. Grover earned his medical degree from the George Washington University School of Medicine and Health Sciences (GW SMHS) and his doctorate in health and public policy from Johns Hopkins University (JHU) Bloomberg School of Public Health. Dr. Grover holds faculty appointments at GW SHMS and JHU Bloomberg School of Public Health.